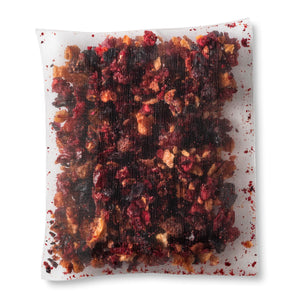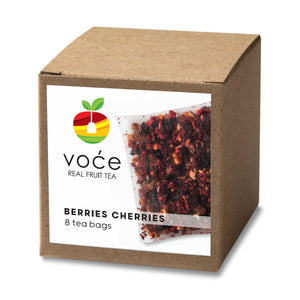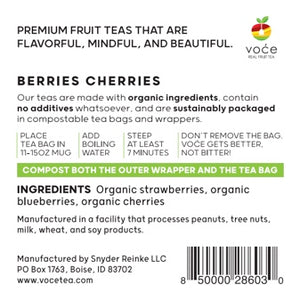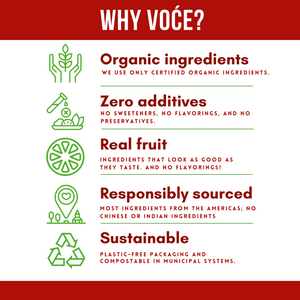 Remember the joy you felt eating your way through a berry patch as a kid? So do we, every time we drink this tea! This is a vibrant blend of organic strawberries, organic blueberries, and organic tart cherries, bursting with fruity goodness. We aren't exaggerating when we say this is the best berry tea around. And, remember, none of our teas contains any flavorings or additives whatsoever, so all you get is healthy, fruity goodness.
*If you don't need the box, please order with no external packaging. Same great tea, but with a lighter footprint!

Ingredients: organic dried blueberries, organic dried strawberries, organic tart cherries.  Packaged in the same facility as peanuts, tree nuts, soy, and milk products.

Each box contains 8 biodegradable tea bags. When you order a box of our teas, you have several options for packaging. If you can do without any external packaging, we strongly encourage you to select that option when you're placing items in your cart. We also offer a recycled/recyclable cardboard box (97% post consumer). 
Country of origin
Organic blueberries: USA
Organic strawberries: USA
Organic tart cherries: Turkey and USA
Berry delightful!
Like drinking a mixed berry fruit bowl! Really good tea.
Thank you berry much, Susan!
Say it isn't so!😔
I love your tea and am so sad you are closing! Is it still possible to order anything?
Thank you so much, Carol! Sadly, we are all out of tea at the moment. But please sign up for our e-mail list, in case anything changes.
Yet another favorite
This is just plain JUICY! I love this as a flavored, chilled water - just 2 bags in a pitcher of water and 2 hours later, I'm drinking it iced!
Yes, we give this to our kids all the time. It's a great juice substitute, and it tastes good all year round. It also makes delicious popsicles!
my favorite
this is my absolute favorite tea. I've never had anything like it. No artifical flavors or junk.
Thanks so much, Ashanti! Best of luck with the perinatal work!
Berries Tea
Searched all over and finally found the perfect blend of berry tea!
Treat myself to a cup every day :)
Thank you so much! We're so happy you enjoyed the tea, and we wish you the very best! Take care.