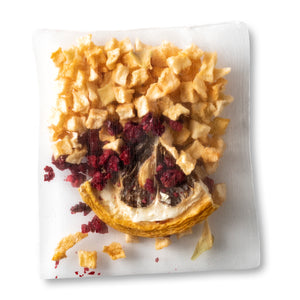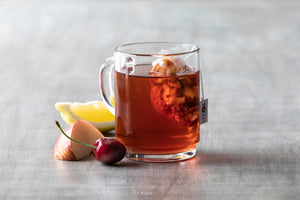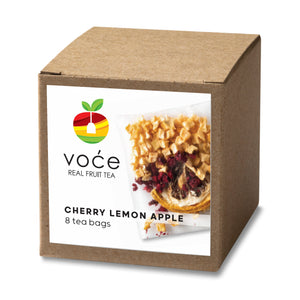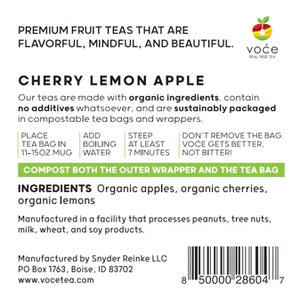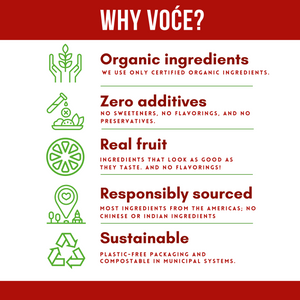 Light and crisp, this tea is a refreshing combination of organic tart cherries, organic apples, and organic lemon slices. You can really taste the fruit flavors in each sip—a little tart, a little sweet! This has been one of the most popular flavors among Voće ambassadors, which is delicious both hot and cold.
*If you don't need the box, please order with no external packaging. Same great tea, but with a lighter footprint!

Ingredients: organic dried apple, organic dried tart cherries, organic dried lemon slices.  Packaged in the same facility as peanuts, tree nuts, soy, and milk products.

Each box contains 8 biodegradable tea bags. When you order a box of our teas, you have several options for packaging. If you can do without any external packaging, we strongly encourage you to select that option when you're placing items in your cart. We also offer a recycled/recyclable cardboard box (97% post consumer). 
Country of origin
Organic apples: USA
Organic cherries: Turkey and USA
Organic lemon slices: USA
Delicious
An unexpected combination of flavors, very light and satisfying!
My favorite Voce tea
I can never decide which tea flavor I like best. I think it's whatever I am drinking at the moment. My dad was the same way. He would tell me to decide which one to fix for him. He was happy knowing it was made with quality ingredients. It makes great sun tea, too!
One of my favorites
This is definitely one of my favorites! The flavor is absolutely amazing. So flavorful I am currently rationing my last stock of this but would drink all day if I could
Best pure teas made with love ❣️
I was delighted to discover this company. The teas are all special and made with such care. The staff is warm and a pleasure to do business with. Each up is day tastes like a treat that was made just for me. Simply put, the BEST fruit teas I have ever had.
Thank you so much, Cristianna! We're so happy you enjoyed the teas; we truly enjoyed making them for you. You've always brought a smile to our faces. Take care!