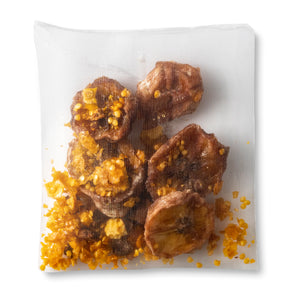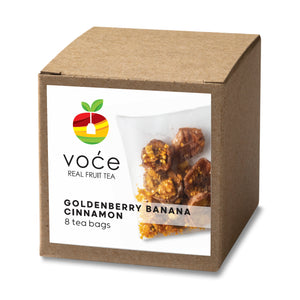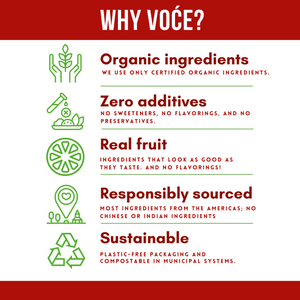 Banana tea? Don't laugh! Our blend of organic goldenberries, organic bananas, and organic cinnamon is an unexpected treat that is reminiscent of warm banana bread, right out of the oven. It has a smooth and subtle flavor that goes down nice and easy. You might not be familiar with goldenberries, but they are widely considered to be a superfruit, with a bright flavor that is similar to apricots. But beware—this flavor combination is truly addictive, especially if you're a monkey!
*If you don't need the box, please order with no external packaging. Same great tea, but with a lighter footprint!

Ingredients: organic dried bananas, organic dried, goldenberries, organic cinnamon chips.  Packaged in the same facility as peanuts, tree nuts, soy, and milk products.

Each box contains 8 biodegradable tea bags. When you order a box of our teas, you have several options for packaging. If you can do without any external packaging, we strongly encourage you to select that option when you're placing items in your cart. We also offer a recycled/recyclable cardboard box (97% post consumer). 
Country of origin
Organic bananas: Sri Lanka
Organic goldenberries: Peru and USA
Organic cinnamon chips: Indonesia
Delicious
A unique flavor that is very delightful. Even the tea bag shows authenticity - big chunk of banana and all the spices. I'm so glad I stocked up right before the store shut down. This will definitely be missed.
You're right, Albee. Our banana tea is an unexpected treat. Delicious and pretty to look at. Thanks for the review!
My favorite flavor!
I loved this one so much, and was heartbroken when the payment screen kept freezing on your last day - I missed out on stocking up. I make a lot of my own tea blends and was able to create a substitute, but nothing beats the original!! I sure hope you are back in business - SOON!!
My teenage son's favorite!
My son says it tastes like a cup of warm banana bread. He absolutely loves the flavor!
My absolute favorite
This is my favorite of all. I love the flavor and the sweetness. Just perfect tea. LOVE IT!! I don't know what to do without this. I was subscribing since I love them so much. (I like all other flavor too.) It is very unique as a fruit tea. I don't how you made it but it is amazing! I am very sad Voce tea is closing.
Thank you so much, Megumi! You've been a customer of ours since the very beginning. We thank you for your support over the years and wish you all the best!
Very tasty
I usually don't like "banana flavor" (meaning: I like bananas and banana bread, but not banana pudding.) So I thought this would be my least favorite in the sampler pack. But It had a nice and strong flavor and is one of my top choices. The cinnamon and golden berries are a nice complement, so nothing is to dominant.
You're so right, Serina! Banana flavoring in most products is really disgusting and doesn't taste a thing like real bananas. When people hear about our banana tea, they're always a little skeptical, but we have a huge number of customers just like you who love the GBC and keep coming back for more. Have a great week!