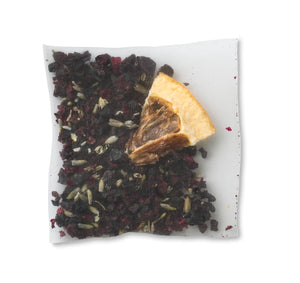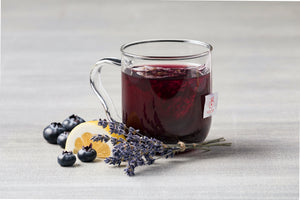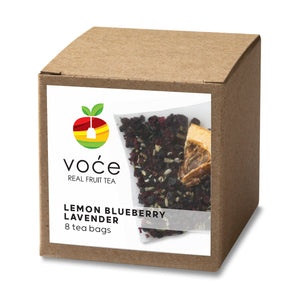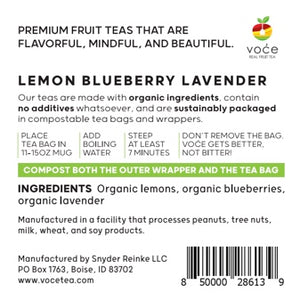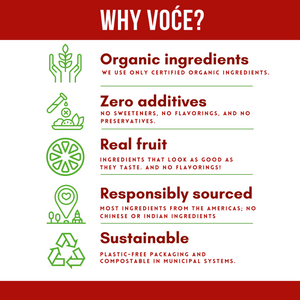 When you need to unwind at the end of a hectic day, you can't do much better than steeping yourself a cup of Lemon Blueberry Lavender tea. This tea is perfectly balanced and contains only three ingredients. Organic blueberries give it sweetness, and the organic lemon provides just the right amount of tartness. And, of course, the organic lavender that we source from the south of France lends an irresistible, luxurious bouquet. Oui oui!
*If you don't need the box, please order with no external packaging. Same great tea, but with a lighter footprint!

Ingredients: Organic blueberries, organic lemons, organic lavender.  Packaged in the same facility as peanuts, tree nuts, soy, and milk products.

Each box contains 8 compostable tea bags. When you order a box of our teas, you have several options for packaging. If you can do without any external packaging, we strongly encourage you to select that option when you're placing items in your cart. We also offer a recycled/recyclable cardboard box (97% post consumer).
Country of origin
Organic lemons: USA
Organic blueberries: USA
Organic lavender: France
AMAZING tea ever!!
I was so sad to hear Voce Tea was closing their doors. :-( In hopes that they can make a come back in some way, I stocked up in a BIG way. Several flavors I now have for days and months to come. I don't think I have a favorite because all the flavors are great! Voce Tea made my love for good tea even more so. The real fruit is what makes the flavor pop and the blends are lusciously delish. I will be back if and when Voce Tea makes a comeback return. Missing you already but I'll cozy up to some tea comfort while I wait. Thank you Voce Tea!
Delicious & calming
Never knew how much I would love this tea! The lavender and blueberry is just the perfect combo when I need to wind down.
Lovely
Three of my favorite combinations all together in one tea bag! What a great idea and so so delicious!
My new favorite
Being my favorite isn't easy. I'm a bit of a tea addict. There is something about this lively cuppa that keeps me craving more. We all know that lemon and blueberries are a match made in heaven. Now we know that lavender is their matchmaker. All of the Voce teas are great. If you only try one today. This is definitely the one.
Royal Tea
This tea is royal! The flavors blend so beautifully, presenting themselves to your tastebuds as Kings and Queens magically transporting you to a higher state of being. So, you know, absolutely delicious!!