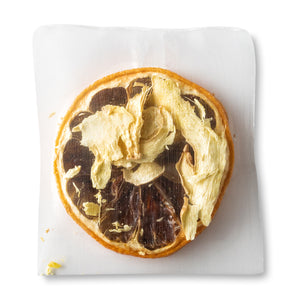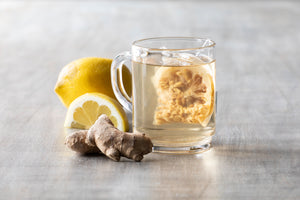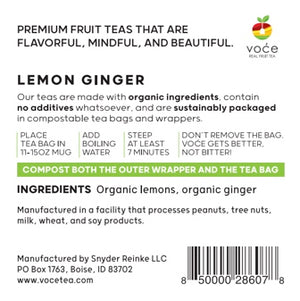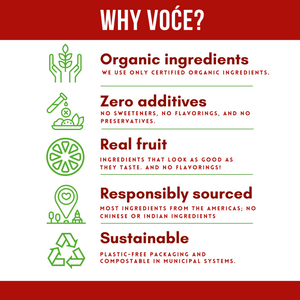 After we started Voće, we had a close friend, Quentin, who told us that he really liked lemon ginger teas. Not wanting to disappoint, we started this flavor just for him. And we're so glad we did because few flavors go together as well as lemon and ginger. In our blend, we don't skimp on either. Voće lemon and ginger tea features whole slices of organic California lemon and big chunks of ginger, for a refreshing taste that is out of this world! One bag of lemon ginger can be used to brew several cups of Voće.
*If you don't need the box, please order with no external packaging. Same great tea, but with a lighter footprint!

Ingredients: Organic dried lemon slices, organic dried ginger.  Packaged in the same facility as peanuts, tree nuts, soy, and milk products.

Each box contains 8 compostable tea bags. When you order a box of our teas, you have several options for packaging. If you can do without any external packaging, we strongly encourage you to select that option when you're placing items in your cart. We also offer a recycled/recyclable cardboard box (97% post consumer).
Country of origin
Organic lemons: USA
Organic ginger: Fiji
The best tea ever!!!!
I absolutely lovvvvveee this tea! The best tea ever. The freshness and the flavor are top notch!
Wonderful
I absolutely loved it! Wish I could buy more!
Thanks so much for the review, Amy! We kind of wish you could buy more, too. But you picked a real winner with Lemon Ginger. There really is nothing else on the market like it—a whole slice of organic lemon and big pieces of ginger. It looks as good as it tastes. Take care!
Best ever
My favorite tea by far. Best flavor over any other Lemon ginger tea. Have it every morning at my desk.
Thanks, Sheri! Voće Tea is perfect for the workplace—wherever that might be—since they're SOOO convenient. And Lemon Ginger is the flavor that keeps on giving, even with multiple cups. Have a great day!
Very good. Great zing from the ginger.
Zing zing! The lemon ginger really is addictive. I'm not sure if you drink it cold or not, but one bag in a water bottle, infusing all day long, makes for a light pick me up all day long. Stay well!