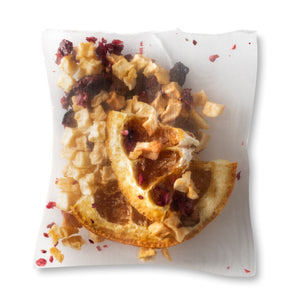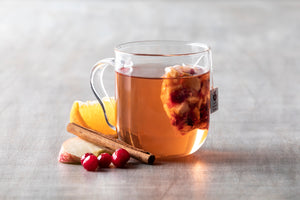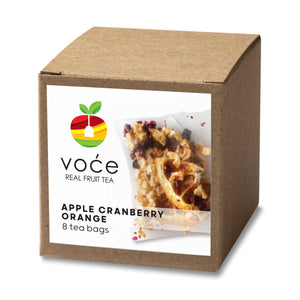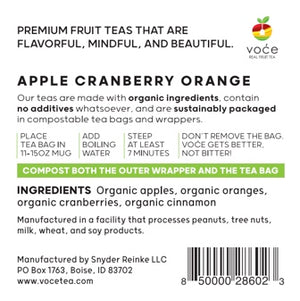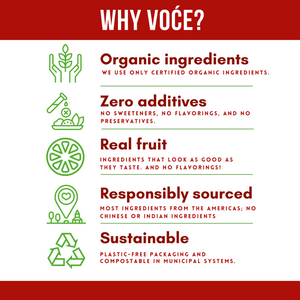 Have you ever wondered what a hot cup of November would taste like? Well, this is it! It's hard to beat this classic blend of organic apples, organic cranberries, organic California orange slices, and organic cinnamon. This tea pairs nicely with autumn leaves, a crackling fire, holiday parties, and Labrador retrievers. You might be surprised to learn that this blend is also wickedly delicious when iced.
*If you don't need the box, please order with no external packaging. Same great tea, but with a lighter footprint!

Ingredients: organic dried apples, organic orange slices, organic dried cranberries, organic cinnamon chips. Packaged in the same facility as peanuts, tree nuts, soy, and milk products.

Each box contains 8 compostable tea bags. When you order a box of our teas, you have several options for packaging. If you can do without any external packaging, we strongly encourage you to select that option when you're placing items in your cart. We also offer a recycled/recyclable cardboard box (97% post consumer). 
Country of origin
Organic apples: USA
Organic oranges: USA
Organic cranberries: USA
Organic cinnamon: Indonesia
Best overall!
This has become my go-to tea for any and every occasion. I like it best hot, especially now that cooler weather is back. It was a good iced tea, though, too.
Apple Cranberry Orange
Oh what a delight to have a burst of deliciousness in my mouth!
Yummiest Tea ever
Exactly! Yum, yum, yummmmm!
Wonderful
This tea is such as wonderful burst of fruity flavor!
Thanks, Chaka! As the weather gets a little cooler, this blend is a real treat. The cinnamon really makes it a great seasonal blend. Take care!