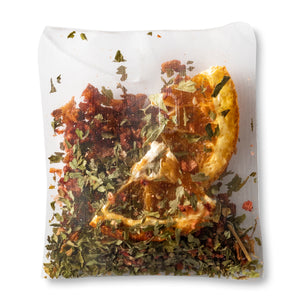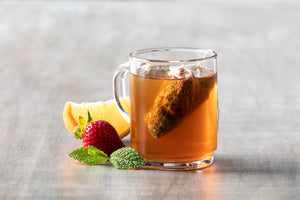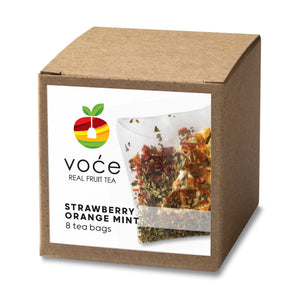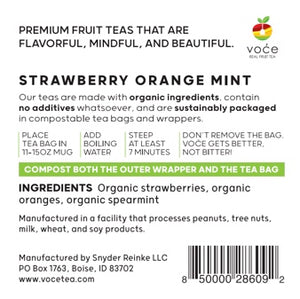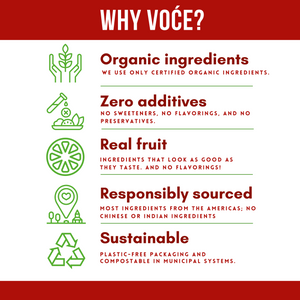 So, we here at Voće kind of have a thing for Strawberry Orange Mint—we call it SOM around the office. SOM is solid and reliable. (Remember your best friend in college who held your hair back after too much "fun" at the bar? That was SOM.) She never lets you down, cup after consistent cup. This is a refreshing blend of organic strawberries, organic California orange slices, and organic spearmint. It has just the right balance between fruit and mint. Delicious to the last drop! And this tea is made solely with ingredients that are grown and processed here in the U.S.
*If you don't need the box, please order with no external packaging. Same great tea, but with a lighter footprint!

Ingredients: organic dried strawberries, organic dried orange slices, organic dried spearmint.  Packaged in the same facility as peanuts, tree nuts, soy, and milk products.

Each box contains 8 biodegradable tea bags. When you order a box of our teas, you have several options for packaging. If you can do without any external packaging, we strongly encourage you to select that option when you're placing items in your cart. We also offer a recycled/recyclable cardboard box (97% post consumer).
Country of origin
Organic strawberries: USA
Organic orange slices: USA
Organic spearmint: USA
Delicious😋
Awesome ingredients you can see!
Yaaas!
Just as the description says, this is a solid and reliable tea. If I were smarter I would always brew in batches so I can have a pitcher on hand in the fridge, but if I did that it wouldn't last as long! Love that all ingredients are organic and that the packaging is compostable.
Yes, please
What a delicious, delightful combination. This tea just screams summer refresher. The sweet summer fruit and the light mint background are perfect for each other.
Very good!
A subtle blend of strawberry and orange flavors with just a hint of mint. I only drink hot tea, but I have no doubt this would taste great cold as well. One of my favorites!