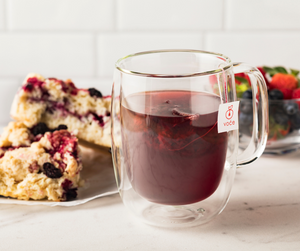 Do you need a classy, unique gift for somebody special? Are you interested in sharing the healthy and sustainable benefits of real fruit tea? Our Tea of the Month Club allows you to give an extra special gift to friends, loved ones—or yourself! We offer 3 and 6 month options, so you can choose exactly how much good cheer you'd like to spread. When you sign up for the TOM Club, you will get one box of our delicious handmade teas. The first delivery will be beautifully gift-wrapped and include a hand-written note to the recipient. (Orders through December will be in holiday gift wrap.) Subsequent shipments will be packaged in a recycled cardboard box. Orders will go out during the first two weeks of each month; orders placed after 15th of the month will begin the following month. In other words, an order placed on November 16th would begin with the Tea Sampler in December. If you have any additional instructions, please note them in the comment section of the checkout page. We will send out orders according to the following schedule:
January: Mango Pineapple Coconut—This perennial bestseller provides a welcome taste of Aloha in the dead of winter when we're all dreaming about warmer climes.

February: Berries Cherries—One of our most popular teas, this bright and fruity tea is a great way to show your love during Valentine's Day.

March: Strawberry Orange Mint—For some reason, this tea has us seeing green, which is perfect for the month of March. 

April: Pineapple Lemongrass Ginger—This blend is currently offered only to our subscribers, but it's already a favorite. TOMC recipients will get a sneak peek at this flavor in April.

May: Lemon Blueberry Lavender—April showers bring May flowers, which in our case means lavender!

June: Cherry Lemon Apple—This crisp blend makes a delicious iced tea.
July: Pineapple Lemongrass Ginger—This blend is currently offered only to our subscribers, but it's already a favorite. TOMC recipients will get a sneak peek at this flavor in July. 
August: Lemon Raspberry Mint—There's nothing that says summer quite like this refreshing tea that tastes just as good iced as it does hot.
September: Goldenberry Banana Cinnamon—This is another blend that unexpectedly tastes great iced. It seems fitting that we head into fall with a flavor that does just as well in the heat as in the cooling fall days.
October: Lemon Ginger—A perennial favorite among die-hard Voće fans, this blend never fails to disappoint.
November: Apple Cranberry Orange—With its hint of cinnamon, this tea is a wonderful accompaniment to all things fall and makes a thoughtful Thanksgiving gift.

December: Tea Sampler—For those of you giving tea as a holiday gift, our Tea Sampler includes one bag of each of our nine teas, which provides a great introduction to the Voće line up.
Best Tea On the Market
If you value high quality ingredients and saving your body from the many additives that exist in today's foods, teas, supplements, etc. then this tea is for you! Always tastes delicious, and never compromising on quality. I drink this every day at work a little afternoon pick me up! Treat yourself and your body and try some! (Not to mention the tea bags are so beautiful! Real fruit!! 🙌🏼
Thank you SOOO much for the kind words, Emily! You seem to understand exactly why we think Voće is such an important addition to the market. High quality teas that are healthy, clean, and sustainable. It's really sad, but if you're not drinking Voće, you're probably just drinking chemicals. Take care!